Description
T4 DNA helicase (gp41) is a hexameric, DnaB-like helicase that unwinds DNA with 5′ to 3′ polarity (1-3). Helicase activity has been shown to be stimulated upon association with gp61 or in coupled assays with the T4 DNA polymerase gp43 (4, 5). T4 replication helicase (gp41) and polymerase (gp43) can carry out ATP-dependent strand displacement DNA synthesis at physiological rates with high processivity in the absence of other T4 DNA replication proteins.
 Protein Purity
The physical purity of this enzyme is ≥98% as assessed by SDS-PAGE with Coomassie® blue staining (Fig. 1).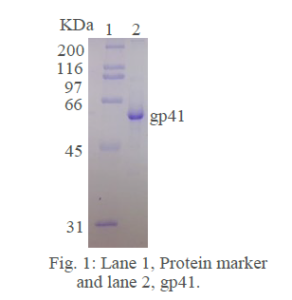 Product Source
E coli BL21 (DE3) strain expressing T4 gp41 gene with C-terminal chitin-binding domain.
Product Includes
gp41 protein
10X gp41 Reaction Buffer
1x gp41 reaction buffer composition
20 mM Tris-acetate
100 mM Potassium acetate
10 mM Magnesium acetate
1 mM DTT
pH 7.8 @ 25ºC
Storage Buffer
50 mM Tris-HCl
50 mM KCl
1 mM DTT
0.1 mM EDTA
50% Glycerol
pH 7.5 @ 25ºC
Storage Temperature
–20ºC
Quality Control assays
gp41 is free from detectable nuclease activities.
References
Dong F, Gogol EP, von Hippel PH. J Biol Chem. 1995;270:7462–7473
Patel SS, Picha KM. Annu Rev Biochem. 2000;69: 651–697
Venkatesan M, Silver LL, Nossal NG. J Biol Chem. 1982;257: 12426–12434
Schrock RD, Alberts B. J Biol Chem. 1996;271:16678–16682.
 Richardson RW, Nossal NG. J Biol Chem. 1989; 264:4725–4731
3552 3555