T7 RNA Polymerase
$149.00
T7 RNA Polymerase is useful for sgRNA and mRNA synthesis, RNA synthesis from DNA templates and applications in mRNA therapeutics
Description
Intact Genomics Bacteriophage T7 RNA Polymerase is a DNA-dependent RNA polymerase that is highly specific for the bacteriophage T7 promoter and terminator sequences. T7 RNA Polymerase catalyzes in vitro RNA synthesis in a 5'→3′ direction from a cloned DNA sequence under the T7 promoters. The enzyme can incorporate labeled or unlabeled nucleotide triphosphates into an RNA transcript.
Protein Purity
The physical purity of this enzyme is ≥95% as assessed by SDS-PAGE with Coomassie® blue staining (see figure below).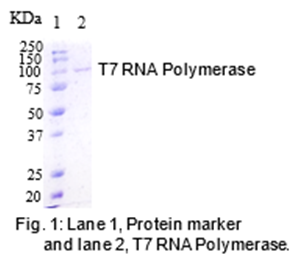 Applications
Radiolabeled RNA probe preparation
RNA synthesis from DNA template
sgRNA and mRNA synthesis
Applications in mRNA therapeutics
Product Includes
1) T7 RNA Polymerase
2) 10X T7 RNA Polymerase reaction buffer
 Storage Temperature
-20°C
 10x T7 RNA Polymerase reaction buffer
400 mM Tris-HCl
60 mM MgCl2
10 mM DTT
20 mM spermidine
pH 7.9 @ 25°C 
Storage Buffer
50 mM Tris-HCl
100 mM NaCl
20 mM β-ME
1 mM EDTA
50% Glycerol
0.1% (w/v) Triton® X-100
pH 7.9 @ 25°C
Quality Control assays
T7 RNA polymerase is free from detectable nuclease activities.3723
Protocol
Add the following components to make the reaction mixture:
Incubate at 37°C for 60 minutes. For shorter transcripts (< 300 nt), incubate at 37°C for at least 2 hours.